Pre Delivery
most cities and counties, permits will be required for the installation of electrical circuits or the construction of



exterior surfaces (decks and gazebos). In addition, some communities have adopted residential barrier codes which
may require fencing and/or self-closing gates on the property to prevent unsupervised access to a pool (or spa) by
children under 5 years of age. Your spa is equipped with a locking cover that meets the ASTM F1346-91
Standard for Safety Covers and as a result, is usually exempt from most barrier requirements. As a general practice,
your local Building Department will inform you of any applicable barrier requirements at the time a permit is obtained for the installation of an electrical circuit. Your spa dealer can provide information on which permits may be
required.
Site Selection and Preparation
IMPORTANT: Site selection and preparation are your responsibility. Carefully read these instructions and consult
your authorized spa dealer if you have any questions.
You probably have a spot picked out for your new spa, whether it's indoors or outdoors, on a patio or on a deck.
Just make sure you check the following:
• Always put your spa on a structurally sound, level surface. A filled spa can weigh a great deal. Make
certain that the location you choose can support the weight of your filled spa.
• Don't forget to level your spa before filling it. (See Spa Leveling Instructions included in Owner's
Manual.)
• Locate your equipment compartment, which houses all of the electrical components, in a place
where water will drain away from it. Allowing water into the equipment compartment can damage the
electronics, or may result in tripping your house's circuit breaker.
• Leave yourself easy access to the circuit breakers in the subpanel (230 volt models), or to the interrupter
switch on the end of the power cord (115 volt models).
• Never let water get into the subpanel (230 volt models), into the interrupter switch (115 volt models),
or into the electrical outlet that your spa is plugged into. Your 115 volt spa will come with a
protective box designed to keep out rain and water from sprinkler systems. Your 230 volt spa's subpanel
is rain tight when installed correctly with the door closed.
• Leave access to the equipment compartment for periodic spa care and maintenance.
Outdoor and Patio Installation
No matter where you install your new spa, it's important that you have a solid foundation to support it. Structural
damage to the spa resulting from incorrect installation or placement on an inadequate foundation is not covered
under the spa's limited warranty.
If you install the spa outdoors, a reinforced concrete pad at least four inches thick is required for spas.
The reinforcing rod or mesh in the pad should be attached to a bond wire (see your Owner's Manual). All
spas may be installed onto a deck, provided that the load capacity of the deck is greater than the
dead weight of the spa (see Deck Installation).
If you place the spa on the ground, even temporarily, place stepping stones under the leveling areas (see Spa
Leveling Instructions in your Owner's Manual). The stones should be at least two inches thick and twelve inches
square. Even with stones in place, the spa will inevitably settle and become unlevel. Plus, a spa surrounded by
dirt or grass will soon be filled with dirt or grass from users' feet; therefore, it is important to get it onto a solid
foundation as soon as possible.
Deck Installation
To be certain your deck can support your spa, you must know the deck's maximum load capacity. Consult a
qualified building contractor or structural engineer before you place the spa on an elevated deck or
indoors. To find the weight of your spa, its contents and occupants, refer to the Spa Specification chart. This
weight per square foot must not exceed the structure's rated capacity, or serious structural damage could result.
Indoor Installation
Be aware of some special requirements if you place your spa indoors. Water will accumulate around the spa, so flooring materials must provide a good grip when wet. Proper drainage is essential to prevent a build-up of water
around the spa. When building a new room for the spa, it is recommended that a floor drain be installed. The humidity will naturally increase with the spa installed. Water may get into woodwork and produce dry rot, mildew,
or other problems. Check for airborne moisture's effects on exposed wood, paper, etc. in the room. To minimize
these effects, it is best to provide plenty of ventilation to the spa area. An architect can help to determine if more
ventilation must be installed.
Your spa dealer can help you with local information such as zoning regulations and building codes.
It may be necessary to remove a gate, part of a fence, or other movable obstructions in order to roll the spa to its
installation site. About ten percent of the time, a crane is the only way to install the spa by lifting it to its final destination.
If the spa has to be taken off of the cart to go over a wall (either because the entry area is too narrow, the eaves are
too low, the corner is too tight, or the stairway is too steep), a crane will be required. Don't be alarmed!
The crane has a truck-mounted boom which can fit right in your driveway. It is run by a licensed and insured
operator. For a charge, the crane operator will lift your spa over walls, buildings, or any other obstruction and place it
as close to the installation site as possible. The spa delivery personnel will supervise the crane delivery
and complete the spa installation. Crane delivery typically takes an average of 30 minutes to complete.
NOTE: If your spa delivery requires the use of a crane, you may be required to pay for its services at the completion
of the delivery.
GROUND PREPARATION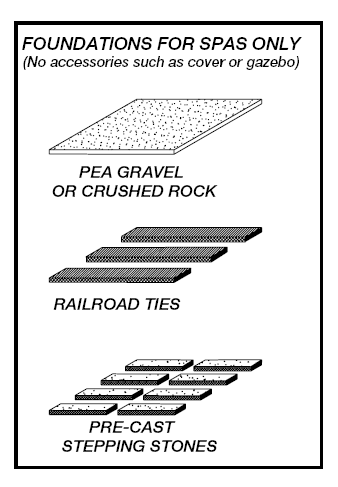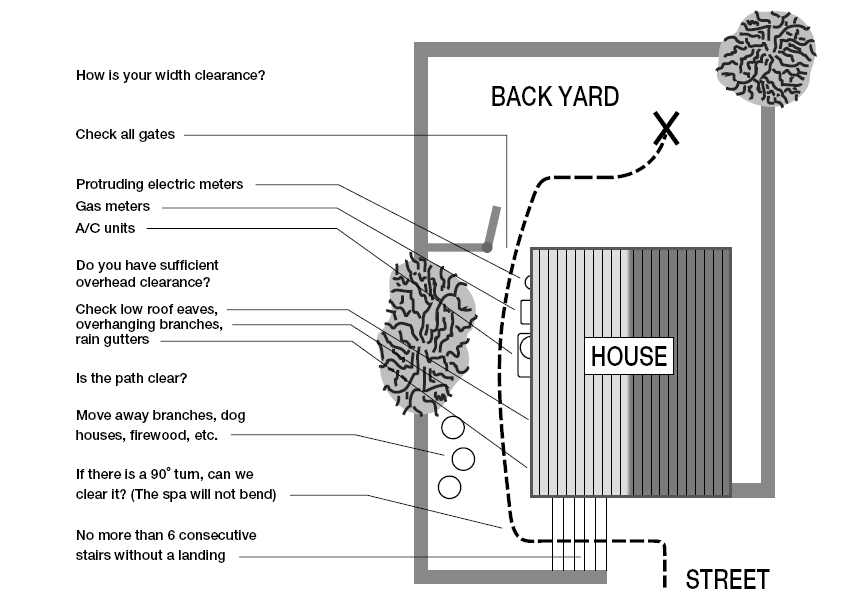 Your spa has been engineered to perform on all kinds of
common yard surfaces. While a concrete slab is best for long-term use*,other foundations are acceptable so long as a level base is prepared prior to delivery. Three foundation base pictures, shown at right, represent examples of alternatives to a concrete slab for spas installed
without gazebos or other accessories.
*NOTE: A reinforced concrete pad at least four inches thick or a deck that is able to withstand more than 115 lbs. per square foot is required for spas.
INSTALLATION NOTES:
• If stepping stones or railroad ties are selected for the spa
foundation, they should be placed at the designated leveling areas
of your spa to maintain even distribution of the spa weight.

• It is important to note that soft surfaces, even when stepping
stones are used to distribute the weight of the spa as evenly aspossible, will still have a tendency to settle unevenly, resulting in an unlevel spa.

• Remember, placing the spa on grass or dirt may increase the amount of debris which is inadvertently brought into the spa water on the user's feet.
If you are purchasing a deck package or a gazebo with your spa, a solid foundation becomes mandatory. Placing them on any surface other than a single level pad could create problems with their installation. Pictured at right are a few of the recommended surfaces.
As a homeowner, it is your responsibility to provide a suitable, level foundation for your spa. Keep in mind that most delivery crews are not equipped to level and prepare spa sites.
If you are interested in having a concrete slab, brick surface, or wood deck installed, your spa dealer should be able to suggest a qualified, licensed contractor. NOTE: In order for the spa to operate properly and the internal plumbing to drain completely, you must ensure that the spa is leveled after it has been installed. The diagrams on the following pages indicate the recommended shimming points on your spa's base support system. Your spa delivery crew can help you perform the procedure.

Diaz bro's services a moving company since 1990 for people needing professional spa hot tubs movers specializing in transporting,relocations,removals,disposal,deliveries