Spa Covers


click to download Form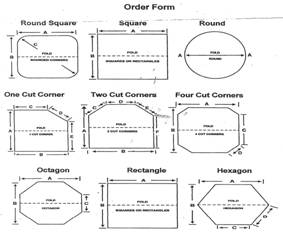 | | |
| --- | --- |
| Ash | Hunter Green |
| Grey | Burgundy |
| Almond | Brown |
| | |
| --- | --- |
| Rust | Redwood |
| Navy | Teal |
| Tan | Sky Blue |
| | |
| | |
| | |
| | |
NOTE:
·

Prices apply only for covers up to 96 inches, using standard 1 lb. foam.
·

Special order or spas larger than 96", please call for quote.
·
We strongly recommend the 2 lb. foam (heavy duty) in areas where snow falls.
·

2 lb. foam (heavy duty) can hold up to 165 lbs. of weight, versus up to 50 lbs. of weight for the standard 1 lb. foam.
·

If 2 lb. foam (heavy duty) is desired, price will be an additional $75.
·

Allow 2-3 weeks for delivery.
Features that make our spa covers strong and durable:
·
Spa-tech Grade Vinyl
- Treated with mildew and UV inhibitors to keep its beauty through the years. Available in 12 colors.
·
Spa Lining
- Double-ply polylaminate industrial grade vinyl with polyester reinforcement, treated with bromine and mildew inhibitors for durability.
·
Tapered Foam Core
- 1 LB (one pound) - 4 inches thick insulation foam tapered to 2 inches. It keeps the heat in and allows the rain to run off.
·
Reinforcement
- 20 gauge galvanized tracks add strength to the center of cover.
·
Commercial Grade Zipper
·
Vapor Barrier
- .003 mill. polytubing heat-sealed. Adds against water absorption.
·
Sure-lock Fastener
- Prevents children and intruders from tempering with spa when locked with key.
·
Vapor Keeper
- Eliminates heat loss and protects from abrasion.
·
Double Folding Hinge Handle
- Four layers of strength insures trouble-free cover removal.
·
Skirt
(flounce) - Keeps heat in and dirt out. Also protects your spa's acrylic from fading.
·
Total Weight
- Approximately 40 lbs.


3 Year Warranty
-
Click here for details.
CONDITIONAL WARRANTY
MANUFACTURER, guarantees this spa cover, HEREIN called PRODUCT, against any defects in materials and workmanship for three (3) full years from date of purchase.
If any defects are found, and MANUFACTURER agrees, the PRODUCT must be repaired by MANUFACTURER. All freight, shipping, and related costs are the full responsibility of the purchaser.
This warranty is nullified, void, and no longer in effect if PRODUCT is not registered by purchaser within ten (10) days from date of purchase.
DISCLAIMER
MANUFACTURER will not be responsible (liable) for:
1.
Accidents caused by misuse, negligence or alterations made by anyone but the MANUFACTURER.
2.
Direct exposure to any chemicals or abrasive materials.
3.
Fading and deterioration from exposure to elements.
4.
Defects on components or parts which are not part of the PRODUCT.
5.
Foam breakage, caused by purchaser or otherwise.
6.
Consequential damages, incidental damages, accidental damages (or otherwise), including damages to property or injury to anybody from the misuse or the improper use of the PRODUCT.
WARNING
* This

PRODUCT

is not a safety device.
* This

PRODUCT

will not hold weight.
TIPS
* Do not sit, walk, or stand on PRODUCT.
* Do not play on or under PRODUCT.
* Do not expose PRODUCT to chemicals or abrasive materials.
NOTE
Expect normal fading and deterioration of exterior surfaces due to exposure to the elements.